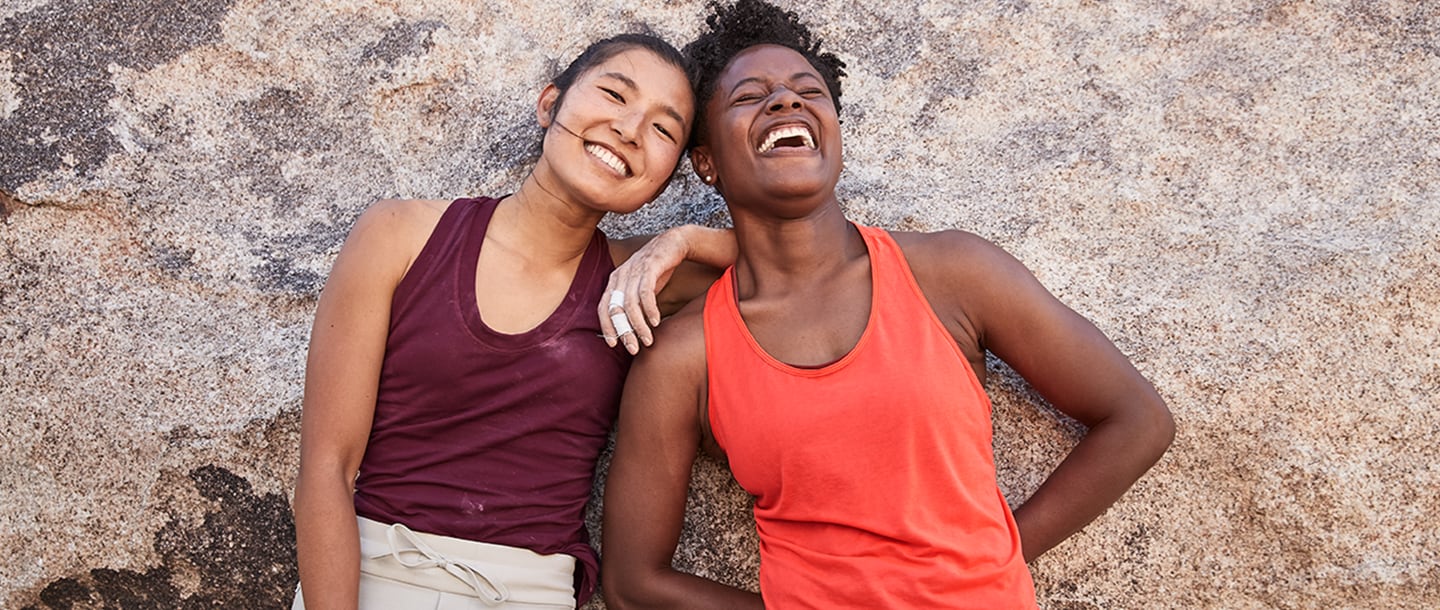 l. blount & terumi murao
L. Renee Blount, Climber, Photographer, Longboarder, @urbanclimbr
Terumi Murao, Climber, Stylist, Surfer, @meru_turao
Climbing partners and friends L. Renee Blount and Terumi Murao have been climbing rocks for as long as they can remember, pushing the envelope on what's possible on and off the wall.
q & a
What motivated you to get into climbing, and stick with it?
T – I like to say that climbing raised me—aside from my parents of course, who did a lot! But I didn't have a lot of confidence growing up. I was really shy and kind of fearful. When you start climbing, you get to the rock, and you're like, "This is physically impossible." Through watching others climb, talking the problem out, working on creative techniques, sometimes all it takes is moving your foot three inches to the left that unlocks the ability to make the move. It takes the climb from impossible to possible. And it's just such an incredible experience—you swore you couldn't do it and then you did, sometimes in a matter of hours. That creates a huge amount of confidence and self-reliance, as well as collaboration with other people. Someone says, "Drop your knee," and suddenly it all makes sense and totally boosts your confidence.
L – I love the quiet confidence of climbing. When you can do something on the wall, no one really questions you. At least for me, I get mansplained too often. I'll be warming up and some guy will say, "There's a V2 right here," because he saw warming me up on something easier. But then I can quietly observe what he's doing and solve his problems on my first go. In the workplace or other scenarios, you can't really do things like that. But the subtle humbleness and quiet success you can have in climbing is amazing—you don't have to say anything, you just leave it on the wall.
How did you two meet?
Terumi – We met at the local climbing gym in Brooklyn. I saw L climbing on the barrel—this very advanced wall. She was working on a problem I was also trying to solve, and I was like, "Wow that girl has amazing technique." And the climbing world is small, so we knew of each other. Our Green Point Gym is super tight knit.
What do you admire most about one another?
Terumi - L is extremely well-rounded as an athlete, so she's constantly cross-training. She climbs a lot inside and outdoors, but also puts a lot of rigor into her overall health—whether it's eating, going for a run, throwing in some mountain biking, and then surfing. She's constantly throwing different challenges at her body, which is so good for mental stamina. She keeps it fun and is always psyched to climb.
L – When Terumi climbs, she can be relentless. She has this ability to redo things over and over and keep a good head about it—not everyone has that in them. I remember watching her attempt the highball boulder in Joshua Tree again and again. She was so badass in that moment—everyone couldn't help but notice.
What scares you or intimidates you about climbing?
T – The scariest thing for me is watching people get hurt. Ego can really get in the way. You're so focused on sending a climb or getting to the top of a boulder that you forget where your competence is. I've seen it happen to others, and it's happened once or twice to me. When you don't check yourself before—Do I have enough pads? Are the conditions right? Do I trust my belayer?—because you want something so badly, it can end terribly. It's human nature, but ambition can get the best of us.
L – People's eyes are bigger than their stomachs. You can also get in your head if you've had an injury, but you have to trust your body, trust your training.
Can you recall a moment in which you considered giving up on a climb?
T – It happens a lot on scary sport climbs or highball boulders, when you're in a position where you have no choice but to finish. It's the synergy of mind, body, and soul working together to pull you through even when your arms have nothing left. You have to will yourself to keep going—and you can, it works. That's one of the most beautiful moments when I climb.
L- No matter your level, you're going to fall—you already know the outcome there. But wherever you go, you'll hear similar words of encouragement. When I lived in Tokyo, I was climbing, and I was working on something hard. A bunch of locals all saw me trying and they said, "Send it! Send it!" Even though my Japanese is awful, the encouragement is universal. There's just so much generosity in this sport.
"Sometimes all it takes is moving your foot three inches to the left that unlocks the ability to make the move. It takes the climb from impossible to possible. And it's just such an incredible experience—you swore you couldn't do it and then you did." —Terumi
What have you learned from one another?
T – Bravery is something I've learned from L. She stands up for what she believes in. She sets her mind on something and goes after it, even if it's uncomfortable, even if she's the only person of color in the space. We were at a paddle-out for George Floyd in Pacifica, and L had just moved to the area. She went up to speak in front of 300 strangers, delivering a beautiful message. She's so incredibly brave and a fierce advocate, lover, and friend.
L – Poise. How Terumi shows up. There's a level of confidence, candor, of "I know what I'm doing." Especially being a woman of color—that can be really hard sometimes, to show up in spaces not designed for you. I don't often get to see women of color show up like that, so when I see her show up in that way, it makes me ensure that I, too, represent myself in a way that feels strong.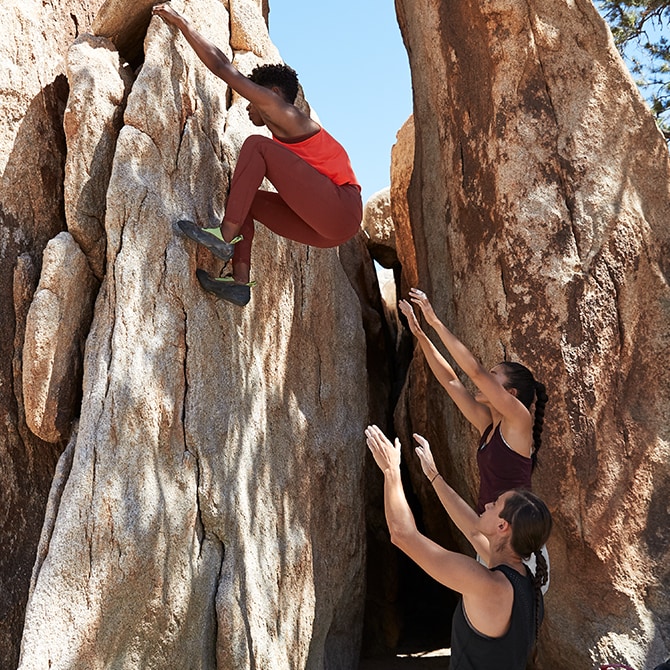 What's the experience of climbing with others?
T – Climbing is one thing that is inherently social. To climb safely, you need a belayer, you need spotters if you're bouldering. But you can get those moments of pure solitude when you're on the climb and it's just you and the rock.
L- Bouldering is even more social, because you don't have specific partners. As a person of color, I feel more comfortable with a group. Yet, in the moments you need more space, you can have that. People are respectful. So you can work in quiet while not being alone. That's the specialness—the community.
What's next for the sport of climbing?
T - There are always going to be people pushing the envelope—the next biggest first ascent or the next free solo. But I'd be even more excited to have thousands of new athletes that represent more races and genders and groups that are underrepresented in the sport. Both things are exciting but being much more inclusive, providing access, sharing the beauty of this incredible sport is what I'd want to see.
L- I agree. I'd love to see a greater variety of people comfortable with climbing. I'd love more people to have access—it's expensive, and there are very few sponsored climbers of color.
And I'd love to see more than the culture of conquering—there's beauty in trying. Anyone who climbs will fall. It's about having people around you who support you and encourage you to get back on again. That's what makes you a climber.
"I love the quiet confidence of climbing— you don't have to say anything, you just leave it on the wall." -L
Any frustrations with climbing—anything you want to change?
T – Inclusivity. There's this exceptionalism that happens if you climb hard or if you're attractive, and that's something I'm becoming much more aware of. There's a quota of "other" allowed and I happen to climb hard or am attractive to some. But you don't respect women if you only respect those you're attracted to. I'm treated a certain way because of how I look or my ability, but what if someone is out there who doesn't have that ability, or maybe looks different? Will they be welcomed and supported? There are so many subtle ways to make someone feel unwelcome and even walk away from the sport forever. My hope is that all people, bodies, colors, genders feel welcome in the outdoor space, because it's really intimidating.
I teach black and brown kids to surf, and they've told me "I didn't know I was allowed to surf" because they've never seen representation in the water. Climbing isn't necessarily as bad as some other sports, but it's so important to have people who look differently all represented.
If you could pick one thing climbing has given you that you're grateful for, what would it be?
T – A love of the challenge—a real love for the pain and the suffering and working through tough problems. It's not a sport that has these natural dopamine hits—you don't score a goal and everyone cheers for you. Like L said, it's this quiet confidence. No external factors motivate you to climb—you don't usually get a lot of recognition. You do it because you love the challenge. And that's something that has been extremely helpful in so many other parts of life. You get to a new problem you have no background in, and you go into creative problem-solving mode. It's hard and painful, but you can find reward and beauty in the process. That's helped me get through so many uncomfortable experiences in life.
What would you say to women & girls who might be curious but afraid of getting into climbing?
L - I like to encourage people to try. It doesn't matter if you only climb indoors or only outdoors, or how many times you try a route. If you climb, you're a climber, you are part of the community. I'd like to go against the elitism about climbing—it lends itself to making people not feel comfortable. I want people to know they have the support to do it, and that climbing is for everyone. Everyone falls, it just matters if you get back on.
FOLLOW TERUMI MURAO AND L. RENEE BLOUNT ON INSTAGRAM