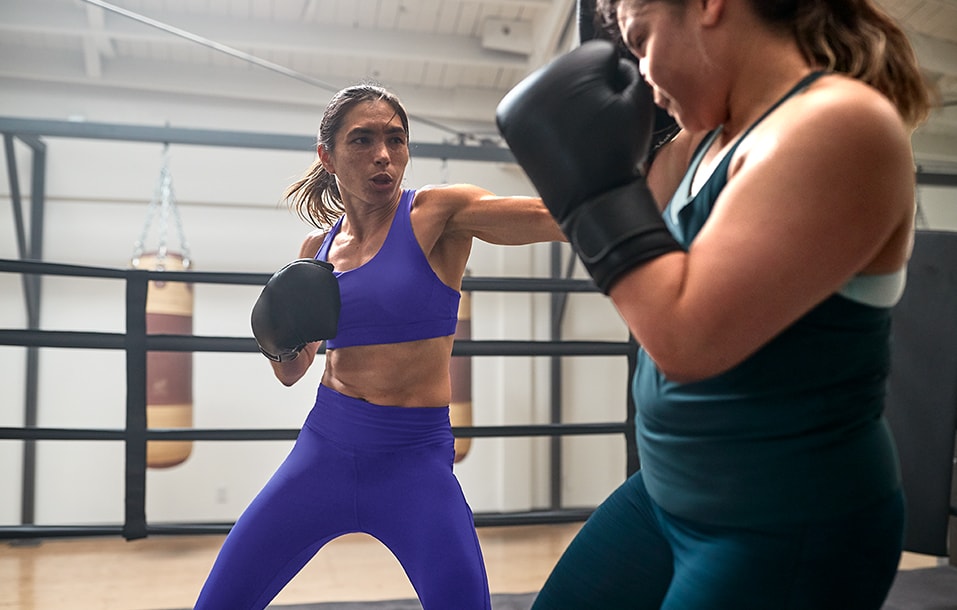 janet todd & anisa torres
Janet Todd, Two-time Pan-American Muay Thai Champion
Anisa Torres, Amateur Muay Thai Junior Champion
Anisa looks to Janet to perfect her technique. Janet leans on Anisa for inspiration, as there's no better source than seeing the next generation push the limits of their potential.
q & a
How did you two meet?
J – We met at our gym—Boxing Works. The great thing about it is it really has a family atmosphere—we're all very tight knit. Anisa's dad is our boxing coach, and we get together outside of the gym, as well.
A – Yeah, we've known each other for seven or eight years. Ever since I was little, I think five years old, I've been doing martial arts. My dad goes to Boxing Works and one day I went with him and was so into it. We also watch UFC together, which got me interested.
J – Anisa is so modest. She's a high school student, takes a bunch of AP classes, and finds time to balance that with her training, which is pretty impressive at her age. She's such a hard worker—she has the discipline to do well at school and come train hard afterwards. Seeing her progress over the years has been so inspiring and rewarding for me.
What inspires you to keep training and progressing in the sport?
J - I never thought I would end up competing at all when I first started, and somehow here I am, almost 40 fights later.
I started competing here and there, but what really inspired me to go after it was my first international tournament in Thailand, the world championship for amateurs and pros. I won my first fight and lost my second, but it made me realize it's something I wanted to do. It's where I belong. To see other high-level fighters competing, displaying their passion and technique—it inspired me to continue pursuing the sport.
A – I've always watched high-level fighters, seen their technique, and been like, "I wanna do that. I've got to train harder." Watching people with perfect form and style like Janet helps me push myself.
What scares you or intimidates you about being in the ring?
A – At first, I was scared to get punched in a fight, and just kind of scared to get in there. But as I trained more and more with pro fighters like Janet, they eased me into it so I could get comfortable. Over time you get used to it, so when I got into the real fight, I was like, "Okay I can do this, I've trained with harder people."
J – Rematches. There's that fear that creeps in. In my first fight with MMA club, I got hit in the face a bunch of times. So the second time I went to fight there, I had to get over the fear of that happening again. And to do that, I had to believe in myself and know I had gotten better since the last time. We worked the hell out of my defense so I was better prepared for that next fight. Knowing I'm never the same person I was before, that I'm always getting better. Sure, I'm scared to get hit but I've been working on my defense. I'm better than I was two months ago. I know I can do this."
It's really a mental thing, and that's the hardest thing to work. I can push my body hard, but it's the mental aspect that takes a while to recognize negative thoughts and bring them to a positive place. For me, journaling trains my mental stamina—writing affirmations down for when those thoughts do creep in.
Can you recall a moment in which you considered giving up in a fight or in learning a new skill but pushed past it?
A- I have negative thoughts sometimes, questioning if I'm good enough to be a fighter, to train with other fighters. I lost my first fight and I couldn't have moved past that without all my supportive friends and coaches telling me, "It's okay we lost, but now we know what to work on." And then I won my next two fights because we did just that. You need people that will bring you up and push you further.
J – Anisa is a good actress because you don't see that attitude. When she's in the gym, she's there to work—always so focused. I don't feel like I even need to say anything. You always come in and get your work done—it's so impressive to see someone your age with that level of focus in training.
What have you learned from one another?
A – Discipline. I see her come in every single day and always put in extra work. Before a fight, she follows strict diets and does all these focused exercises—she's so dedicated.
J – You're like that right before your fights, too! We have a really strong girls' team at the gym, so sometimes when I have those days where my body is just sore and I'm not motivated, I see Anisa and the rest of the girls putting in the work and it inspires me to be better, too. She's an amateur junior champion! I'd love to see her continue down the road she's on—she's so impressive.
A – Winning that title three years ago was the highlight of my career so far. It's this giant tournament in Arizona, and people come from all over to compete. I trained super hard with my coaches for that, so winning was really rewarding.
J - I specifically remember watching that fight and, man, I was so excited when I saw you win! You were so composed in that ring.
A – Inside I was freaking out! My dad told me, "I've never heard anyone scream like that," when they announced my win.
"I've grown into the confidence to overcome any obstacle that's put in my way. And that confidence translates into courage too. Outside of fighting, it gives you the courage to stand up for yourself." —Janet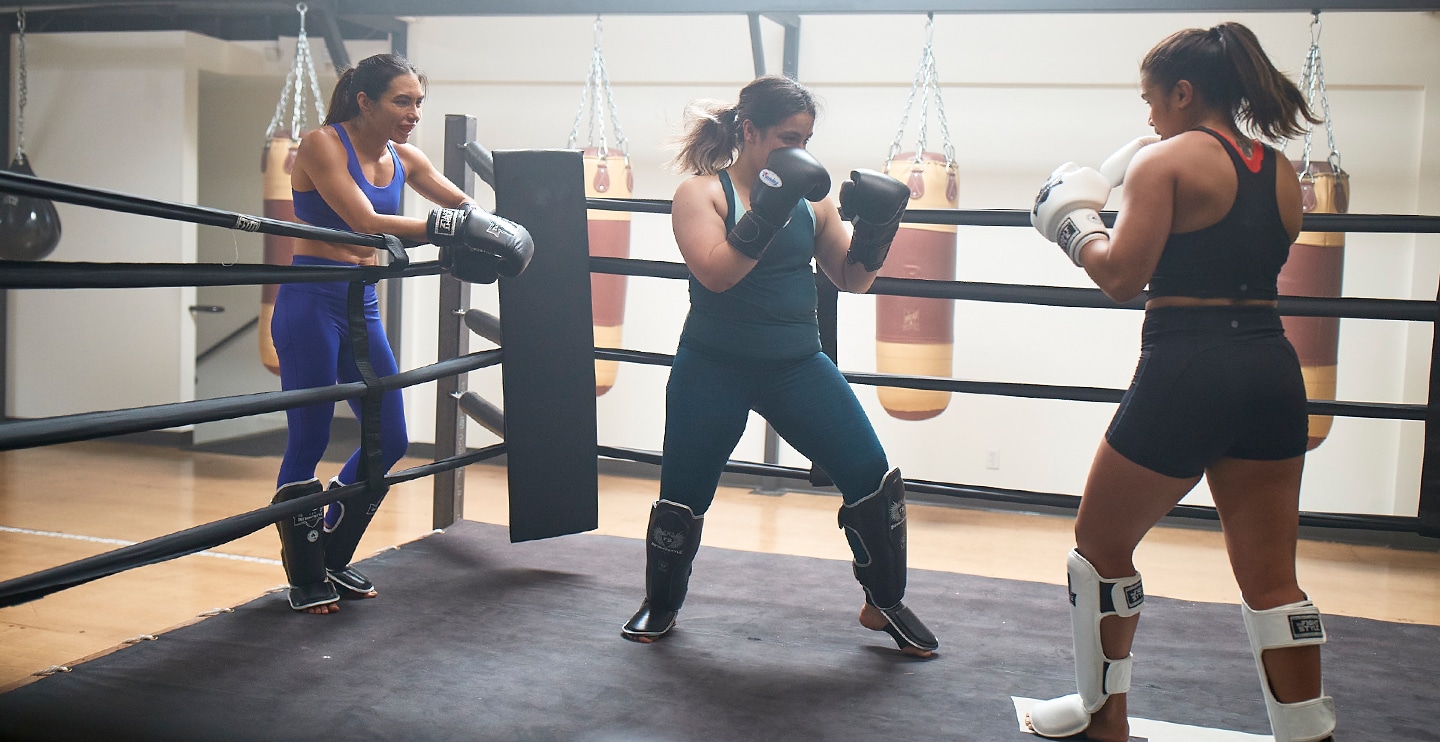 Beyond specific skills, what have you learned through fighting that translate outside of the ring?
J – The biggest thing for me is—like with any type of martial arts or sport—it builds your confidence. It built mine. I see it in myself now—it's being able to know you can get past any obstacle. Anisa, you can attest to this too, but there are times I don't think I can do something, but with some hard pushes—and maybe a couple cries—I can do something that I've practiced. I've grown into the confidence to overcome any obstacle that's put in my way. And it translates to everything, having that confidence to know you can do anything you put your mind to.
A – Confidence, for sure. You earn it in yourself and you earn the right to say, "Yeah, I fight, I can protect myself." It makes you confident with yourself and your abilities. And it's fun to tell your friends!
J – And that confidence translates into courage too. Outside of fighting, it gives you the courage to stand up for yourself. When I was younger, without that confidence, I couldn't do that.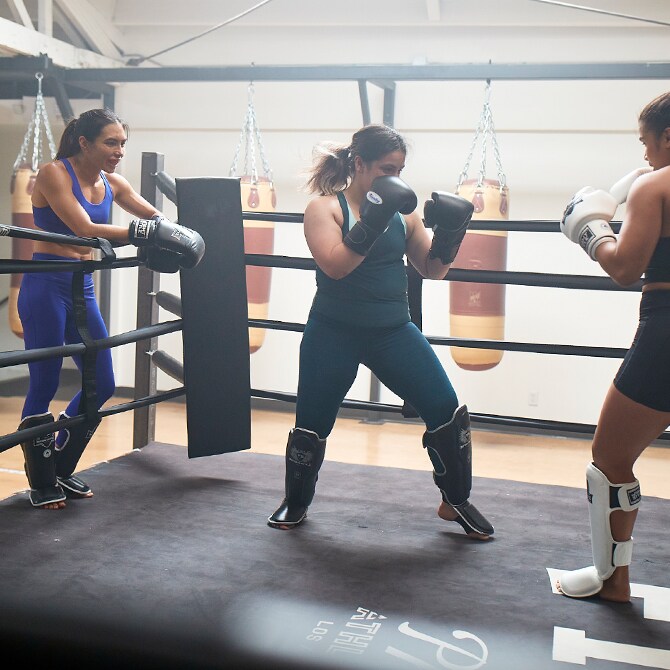 Anisa, how can you take what you've learned from Janet, and the sport generally, and pass it on to the next generation?
A - Confidence is something you have to work for. It's not always a linear path. Sometimes you love yourself and sometimes you doubt yourself. Even when it gets hard, keep working.
What's the experience of training together versus on your own?
J – Being able to surround ourselves with people who have our best interests at heart, people who always find ways to uplift each other—whether it's being goofy between rounds or giving words of encouragement—it feels like home to me. That's why I love it so much at our gym.
A – It's a lot more fun to train with someone you're close to, you know you work well together. It's easy to communicate and help each other, so those relationships are so important.
Janet, have you ever felt imposter syndrome?
J - Yeah, I have. Especially during my amateur career. I had some sponsors and they had other great fighters that they sponsored. I felt like I didn't belong, that I might not be good enough to be part of their brand. My coach reminded me, "Fake it 'til you make it." Repeat to yourself that you belong there and you'll start to believe it. It's easier said than done. I journaled and identified things I'd done and overcome in the past to know I was capable of this next level. Otherwise those negative thoughts can consume you.
"Muay Thai taught me how to be physically strong and, like Janet said, mentally strong. You learn to be confident with your abilities and stay calm when things get tough." —Anisa
What do you think is the future of Muay Thai?
J – Muay Thai isn't as popular as MMA, and I hope that it becomes more mainstream and people can appreciate it for its beauty. People associate fighters with violence, but there's a lot of beauty and grace in it—so much athleticism and agility that I hope people can see. I want more women to be able to do it, to not be afraid to come into the gym and try it out. Maybe they're afraid because it's a male-dominated sport, but I want them to come in and try it and see the benefits Anisa was describing. To get past what's difficult so you start believing in yourself more and loving yourself in your own skin.
A - I hope it becomes more popular. Because it is very beautiful. Plus, it's cool to see all the different people from different backgrounds come together—I hope it makes it to the Olympics one day. And I hope more women join. There aren't that many now, but everyone can do it, and I want everyone to know it's possible no matter who you are.
J – It's a sport that's really about being respectful to your opponent, being thankful for the opportunity to challenge yourself. And I don't think everyone understands that.
If you could pick one quality Muay Thai has given you that you're grateful for, what would it be?
A - Strength. It's taught me how to be physically strong and, like Janet said, mentally strong. You do work with teammates, but it's more of an individual sport. You learn to be confident with your abilities and stay calm when things get tough. And you get physically strong to be able to do this.
J – Courage. Being able to face my fears and know I can get past them. There's something magical in that. The one-week mark before a fight, all the training and hard work comes together, and there's a calmness that comes over you. You trust that you did the work, you trust yourself to be able to do what you trained to do.
What would you say to other women or girls who are interested in trying Muay Thai, but are maybe intimidated or unsure?
J – I'd say give it a try anyway! We all started from zero, but being able to stay at it and build that mental fortitude to continue is so rewarding once you do.
A – It's not 0 to 100. It's a slow process. If you're interested, try! You'll start slow and learn the basics—you won't go in the ring your first day, you'll be introduced and acclimated until you get comfortable.
J - I hope people see that and see what's possible. That's why I love training with all the girls at the gym—to see what they're capable of and watch them progress makes me feel beyond capable.