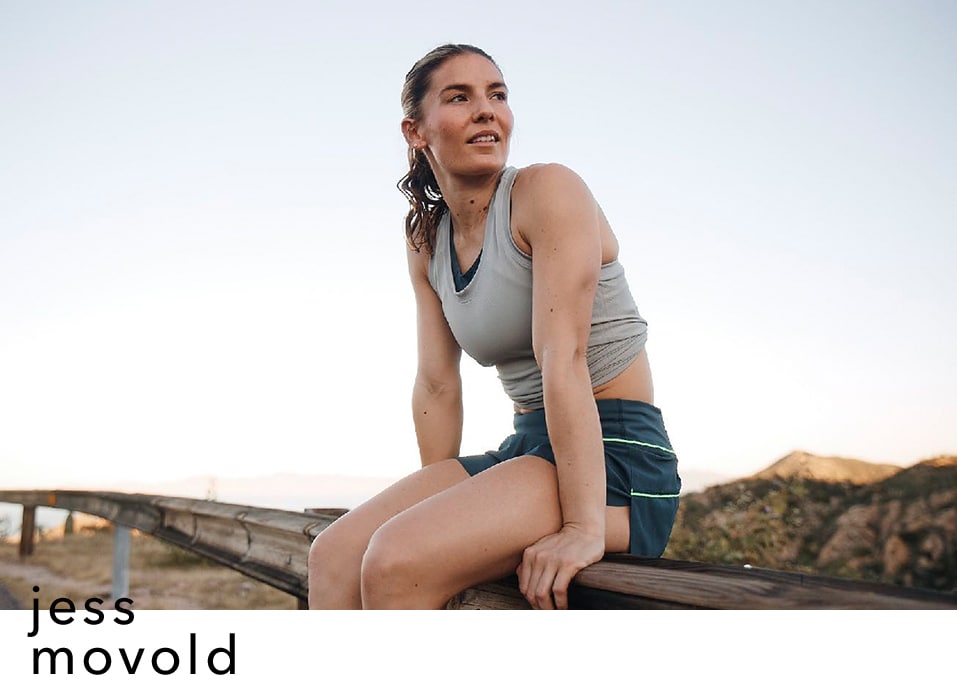 Run Coach, Trainer & Competitive Runner
New York, New York @jessmovold
A trainer, coach, and competitive runner based in New York City, Jess Movold knows well the freedom that comes from discipline—and she's helping others find that freedom, one client at a time. Jess Movold knows well the freedom that comes from discipline—and she's helping others find that freedom, one client at a time.
Home Remedies
One thing you did today for self-care?
Brushed my teeth.
Favorite song to dance to right now?
Blinding Lights by The Weekend
Comfort meal?
Cheeseburger.
First person you'll hug after this is over?
My dad.
Workout that makes you feel the strongest?
Speed workout on the track.
Have you learned something new during this time?
Making food, in general.
Favorite cozy outfit right now?
A quality t-shirt and nice oversized sweatpants.
q & a
How has quarantine changed your day to day?
Luckily, I've still been able to do everything I do remotely. At The Fort, where I'm a trainer and coach, we've pivoted to a digital platform to keep our clients accountable to their fitness and nutrition goals. Even though I'm not traveling from the gym to in-person sessions with my clients, I've still been able to be just as effective. It proves that accountability is just as powerful from afar. The biggest challenge has been to create and maintain structure for myself as I help others do the same.
Talk to us about your relationship to your alarm clock?
I operate best when I get up early. The first week, I was sleeping until 6:30am or 7am. I just didn't feel like I was attacking the day! I asked myself, "What's my perfect day outside of shelter-in-place?" So, I went back to building my day just like I would before. For many, this is a great time to consciously set patterns—mentally and physically—that they can carry forward out of this moment. Now's the time to do it before the world spins faster and we're back in a more reactive mode.
What would you say to women who might be struggling to cope or feeling less inspired?
Slow way down. Breathe. For the first few weeks, I wasn't even running and, as a trainer and competitive runner, I understand the value of exercise as much as anyone. But my motivation shifted, and I slowed down. I needed to in order to wake up to the fact that I can do what feels good right now—no training plan, nothing forced. Find something every day that reminds you of your self-worth and makes you feel good about yourself—moving, reading, painting. And there's no need to feel guilty about what you're drawn to.
Any words of wisdom on seeking inspiration from social media?
Motivation from others is so inspiring and important. It can also be intimidating when it comes through the lens of someone else, who no doubt has a different relationship to movement than you do. We can lose ourselves in comparison. If something outside of yourself isn't resonating, hit the reset button and come back to yourself. And for those of us who love to use the digital space to get out of our own heads, use it! Tap into that space and let someone tell you what to do. The structure can be freeing! Either way, give yourself what you need and celebrate the little victories.
How has it been to run in New York City these days?
In rural areas, I'm sure some people can run mask-free. In New York City, you wear a mask—and it's very challenging psychologically. It's not what we're used to. New York doesn't feel like itself right now. Things are on pause and we, as New Yorkers and runners, feel that. But running is and always has been a universal outlet for stress. It's so freeing and empowering, and it's something we can do for ourselves in this moment.
"As the world starts spinning again, we must prioritize the things we began to do for ourselves and others when it stopped."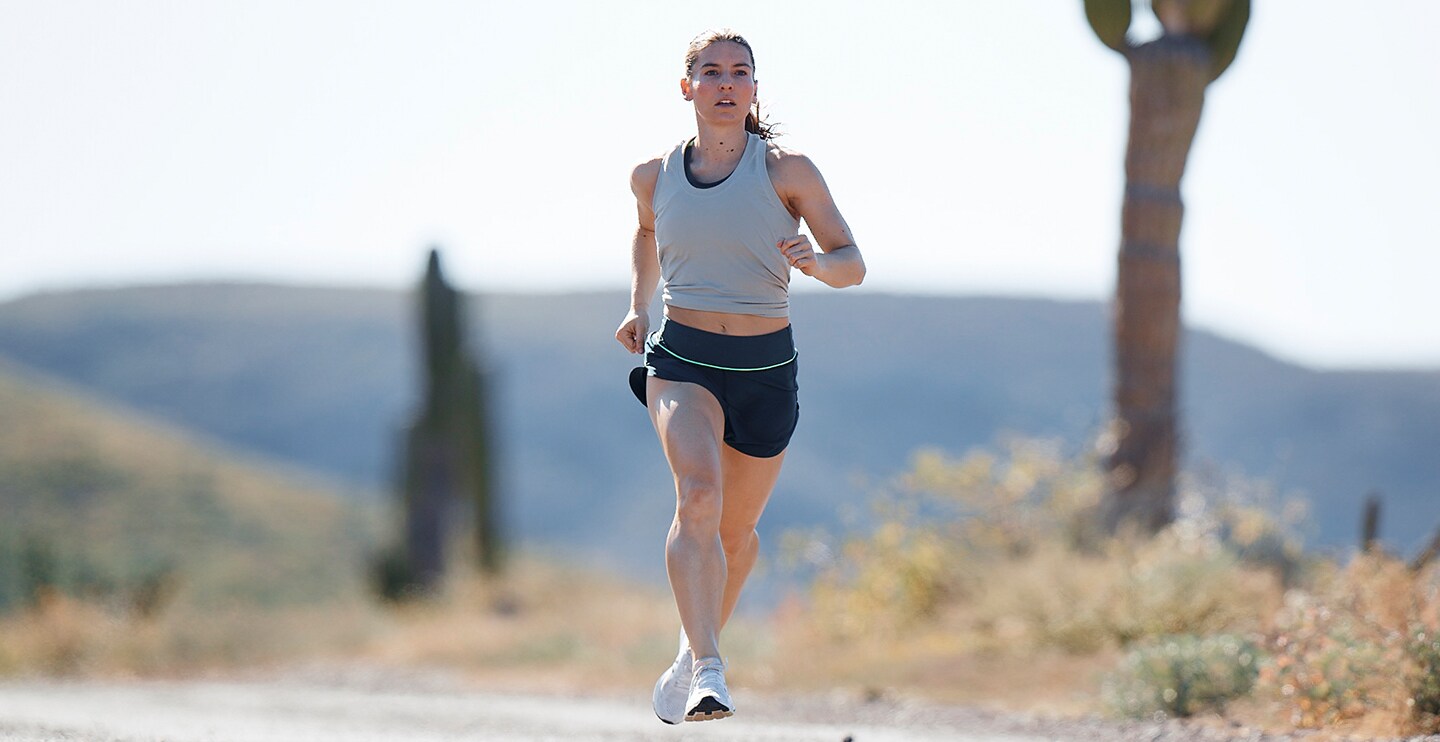 What's your role as a coach in this moment?
The only way anyone can seriously go after a goal is to have someone hold them accountable. It's so important to have someone to check in on you. It's normal to get off track. A coach tethers you to a sense of discipline to get you back on track—to get you moving again.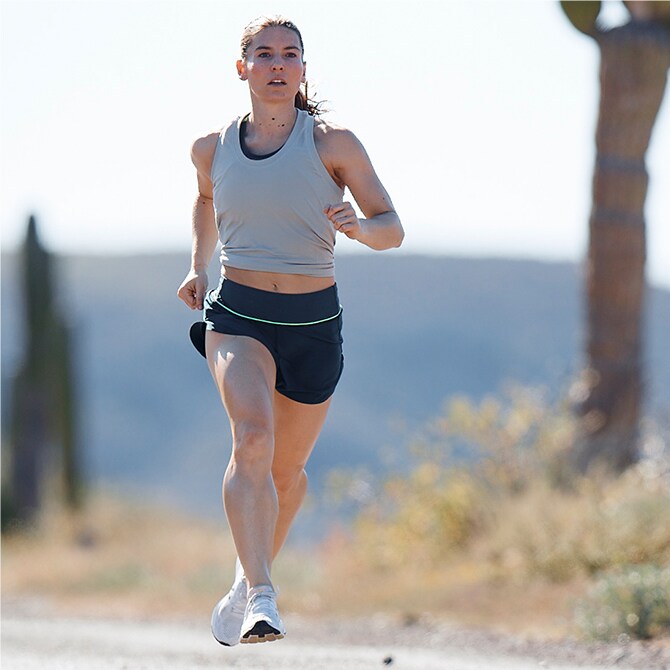 What are your wishes for yourself and your community coming out of this moment?
To discover, work toward, and become better versions of ourselves. The heartbeat of our cities will return—the pace will pick up. I want to remain clear on what's right for me as we move forward. I want to say "no" a little bit more, favoring quality and not quantity. We've slowed down and, in many ways, gotten back to basics. As the world starts spinning again, we must prioritize the things we began to do for ourselves and others—eating well, moving our bodies, connecting to one another—when it stopped.
What makes you feel the most connected to yourself right now?
I feel the most connected to myself when I'm moving. It reminds me of my worth and reestablishes my confidence, even if it's not a hard workout—yoga, mobility, stretching. Movement pulls us into our own bodies and connects us to our hearts—it reminds us who we are. It gets us out of the negative self-talk into the present. Only from this place can we help others. When I'm good to myself, I'm a better version of myself to others.
What's the first thing you're going to do when we get back outside?
Get a facial.
What have you learned about yourself in this moment?
I can get side-tracked very easily and overwhelmed by everything that needs my attention. It can create a cloud of stress, and I can get stuck there. I've learned that I'm my best when I create space and focus on one thing. I'm managing distractions and budgeting time to do one thing at a time. Just getting started is the hardest part, but once you do … off you go.