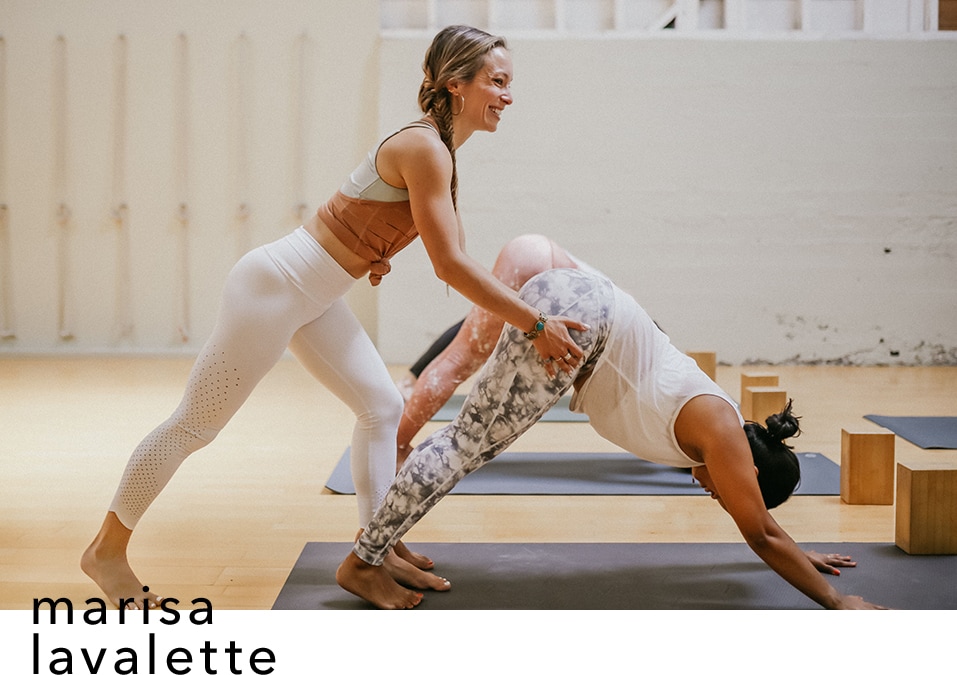 Yoga Teacher & Women's Coach
San Francisco, CA @marisalavalette
Marisa LaValette is lighting a fire in women everywhere to get clear—and get serious—about their true purpose. She's committedto helping women attune to their hearts and align their lives. And she's doing it all virtually.
Home Remedies
One thing you did today for self-care?
I re-prioritized my schedule so I could go for a 20-minute walk.
Favorite song to dance to right now?
Boy With Luv (feat. Halsey) by BTS
Comfort meal?
I've totally reintroduced carbs into my diet. Oh, and dark chocolate every day.
First person you'll hug after this is over?
My parents in New Jersey.
Workout that makes you feel the strongest?
Shawn Besabella's STRONGER class hosted by The Assembly. My butt actually looks different.
Favorite cozy outfit right now?
I'm loving Athleta's Moonrise Joggers and Steady State Crop Sweatshirt.
q & a
How has this changed your day to day?
My online community is more robust than ever, five days a week. Last summer, I had this creeping feeling that I had to move my business online. Historically, I've overscheduled myself. The choice to become a fitness instructor exacerbated this, especially when I looked at how much of my time was spent commuting. It became clear that I needed to cut back on my in-person offerings to protect my own energy. By the fall, while I kept my studio classes, I transferred my workshops online.
What are you hearing from clients these days?
People aren't necessarily turning to hardcore workouts or other fiery practices. Instead, they're using found time for meditation, journaling, and other restorative practices. People's natural desires are coming to the surface. Right now, personally, I just want to get grounded and quiet. I don't need more agitation to my already agitated system. I'm so happy that my members have invested in blocks, bolsters, and straps to accommodate gentler forms of release.
How has your definition of community changed over the past month or so?
Community is now location-independent. It's based on values and belief systems. More specifically, my Attune + Align community is for women who want to attune to the calling of the heart within and want to do the work to align their life accordingly.
What are your wishes for yourself and your community coming out of this moment?
We're in the midst of surviving our worst nightmare—we're living the worst-case scenario. In the past, I've made my life's most important decisions based off of worst-case scenarios or fear-based thinking. So, the manifestations were always disappointing. I kept counting on bad things to happen. And because I was counting on them, they happened. My hope for everyone, especially women, is that we start making our decisions based on the best-case scenario. What if everything went your way? This is one way for people to feel more empowered in their lives.
What's one piece of advice you give women starting their own businesses right now?
Obviously, fitness professionals and coaches have to transition their offerings online. They have to get super tactical and set up the infrastructure for their client platforms—this includes deciding how to monetize their services, how to collect payment, and how to market to the right individuals. Successful marketing makes it clear who your service is for and who it is not for.
"Community is now location-independent. It's based on values and belief systems."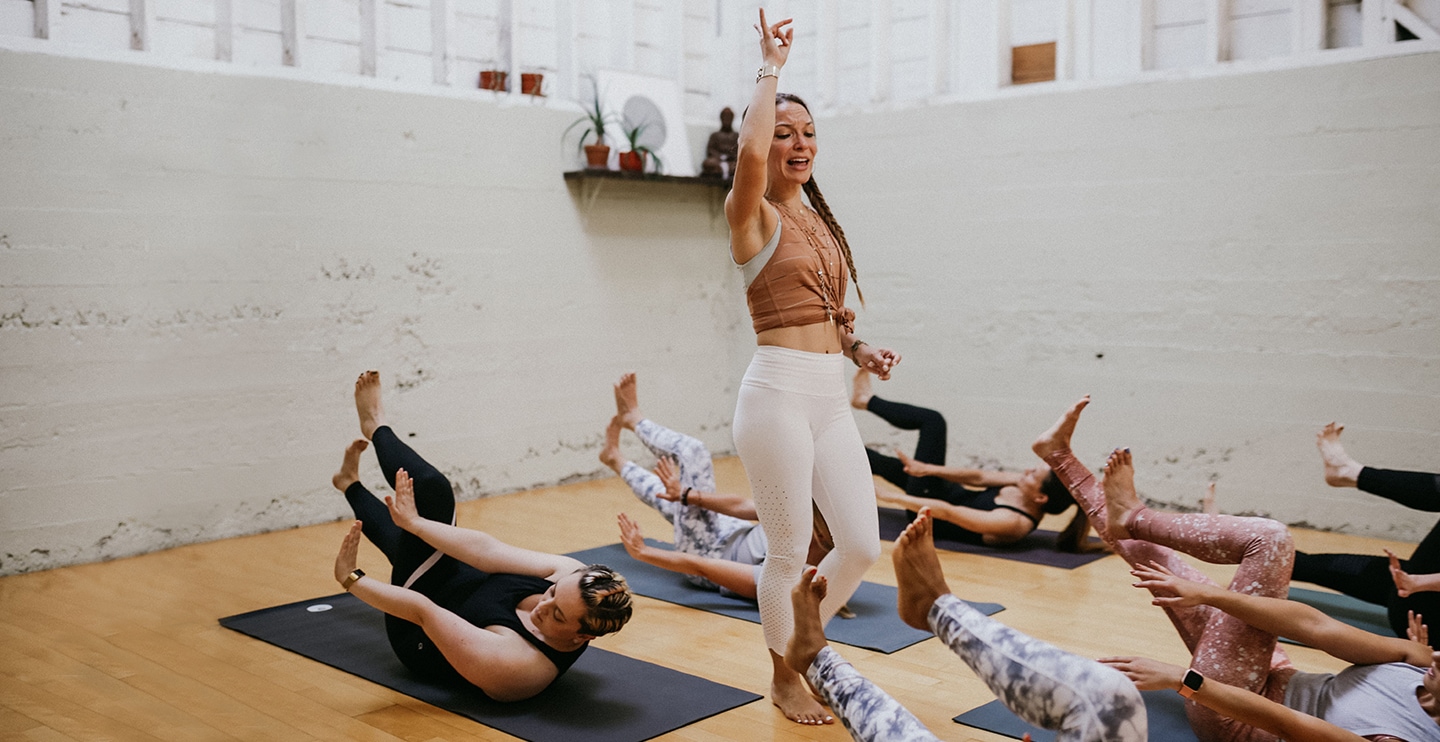 What makes you feel the most connected to yourself right now?
Pouring my strengths into helping others. All I've ever wanted is to serve others. In past careers, I was frustrated that my skills weren't being leveraged optimally. Now, I feel totally aligned.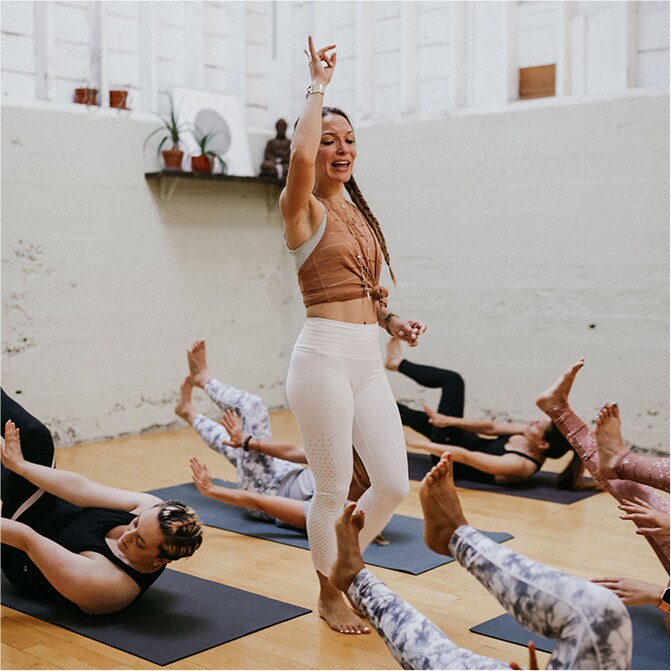 What would you tell women who are having a hard time being active right now?
Take the time to find a teacher who you really connect with rather than flocking to someone just because they have an enormous following (not to say those teachers aren't great too, they certainly are.) There's nothing like giving a new teacher a chance to shine their light and share their passion with you.
What's grounding you?
Exercise, whatever that looks like. In order to show up for others, I need to show up for myself. I need to convey a vibrancy across Zoom, and I get that from moving my body.
What's the first thing you're going to do when we get back outside?
Mani-pedi, for sure. My cuticles are a minefield. And then reschedule a bunch of travel.
"My hope for everyone, especially women, is that we start making our decisions based on the best-case scenario."