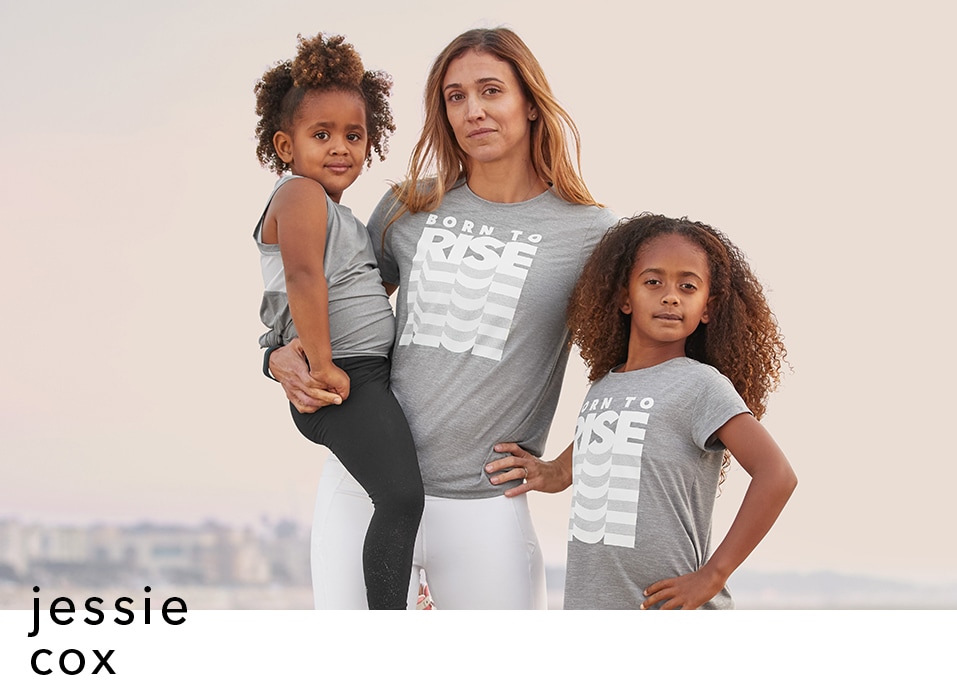 Yoga Instructor, Founder of Bambini Yoga Project, Mother
San Rafael, CA @starflyyogi
Jessie Cox knows the power of connection-to the mind, to the body, to each other.
Home Remedies
One thing you did today for self-care?
I practiced yoga with my daughter.
Favorite song to dance to right now?
We're loving dancing to RITMO, that "rhythm of the night" song by the Black Eyed Peas.
Comfort meal?
Italian food. Pasta, all of it.
Workout that makes you feel the strongest?
Moving through sun salutations. I really enjoy the meditative aspect of the movement.
Favorite cozy outfit right now?
Any one-piece romper!
q & a
How has your definition of community changed over the past month or so?
We've realized we need a sense of community more than we did before. It's given us a higher sense of awareness that we need to interact and connect in meaningful ways.
How have you adjusted your work to accommodate digital community?
For my studio classes, I'm teaching through Zoom, trying to support keeping the space open so our community can stay together as we move past this.
With my non-profit work, we've quickly transitioned to Zoom and creating YouTube videos. It's the best way to connect with the kids, but since we work with a lot of underserved kids and communities, we're also trying to get all these kids access to the internet. We're sharing yoga, meditation, and mindfulness practices and games with all the schools we work with, and even some that we don't.
How can yoga and meditation help young girls (and anyone) right now?
Kids are taking in—without even knowing it—all this energy from their surroundings. They're feeling all these deep emotions. Yoga and meditation are outlets to help discharge that energy. It's my hope that we're giving them an outlet to let go, and giving them a sense of peace despite everything going on around them.
What's the benefit of doing yoga or meditation—or whatever your outlet is—together?
The cool thing for me is I feel so much support from my daughter, Brooklyn. She's 9, and she helps me teach. There are days she doesn't feel like practicing, but she does it anyway. She inspires me to continue.
As a mom, how are you creating space for yourself?
I meditate every day. I take time to practice yoga, even if my kids are running around. I make sure to go outside—fresh air is my saving grace. We need to take care of ourselves first, because our energy has such an impact on our kids, on all of those around us.
"Look at yourself and ask, 'what do you need to feel better?' And then do that. Give yourself the space to fall apart, to feel."
How are your daughters staying connected to their friends, their teammates, their communities?
We schedule Zoom calls with their friends. Even just a few minutes brightens up their whole day. We're lucky to have so many ways to connect.
My oldest daughter plays soccer through Zoom every day. It's hard because part of the reason she loves the sport is for the friendships, the camaraderie. It's not quite as fun to practice outside on her own, and some days are better than others, but we remind her to just have fun with it. It's totally different than what she's used to, and we're giving her the space to acknowledge that whatever she's feeling, whatever she's going through is okay.
What would you say to women who might be struggling to cope or feeling less inspired?
That's tricky because people are in really different situations right now. But we all need an outlet. Maybe yours is taking a walk outside, or taking a long bath, or writing in a journal. Look at yourself and ask, "what do you need to feel better?" And then do that—and stay committed to doing that. If you need to sleep in, don't beat yourself up about it. Give yourself the space to fall apart, to feel.
What do you hope to take away from all this? What do you hope our community takes away from this?
I hope I slow down. I tend to move really fast and pride myself on being a good multi-tasker. But you can also be really productive if you focus on what matters, slow down, and be present in those things. My kids, my work—just being more intentional with my time.
I hope that people are more mindful—in how they interact with our planet, with each other, in the ways they move through their days. It's easy to be on autopilot, and I hope people think about the choices they make and how they choose to treat people. And that we're all a little more grateful.